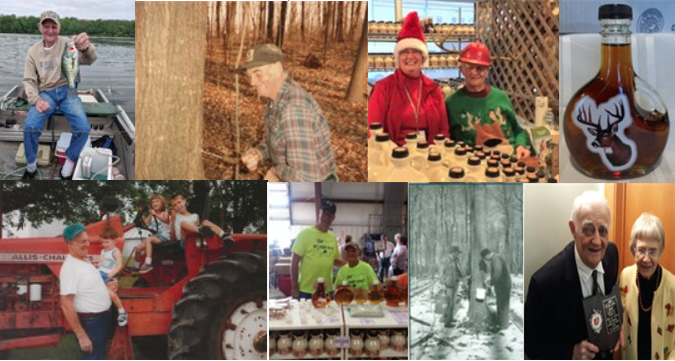 Well, how do you attempt to sum up decades of someone's life, honoring them while bringing attention to the special and amazing person they are? Don't ask me! I am struggling with it, but here it goes:
On Dec. 11, 2022, our family lost a great man (dad) who was a guiding force for us. He started everything about our family making maple syrup, working through the years to build a customer base, cultivating friendships not only with those customers, but with vendors, event coordinators, and maple producers across the state of Ohio – whether they were backyard hobbyists or very determined, established producers. Dad was willing to talk to anyone about maple syrup, fishing, hunting, life, weather, church, fishing (oh yeah, he dearly loved to fish), or most any other topic.
Today's 2nd Street Market was dad's consistent retail outlet for many years. He loved the regulars that came to visit with him, as well as the vendors that work there. Dad was a frequent customer to many of them, and he passed on that love of 2nd St. to us, as we continue to sell at 2nd St. The market won't be the same, knowing that we won't be picking up tomatoes, morel mushrooms, cantaloupe, or any of the other treats available there each week to deliver them to dad.
One of the greatest joys dad experienced was introducing people to the great maple syrup produced in the state of Ohio. Many people didn't realize Ohio even was in the game. Dad loved to see the reaction on the face of a first-time real maple syrup taster. He loved to see the happiness from kids, too. Often, he would give away some maple sugar candy he made, just because he wanted to do it. That's who he was.
So dad, for everything you taught us, for everything you did to support us, to support others, spread the love of Jesus Christ, capture beautiful memories working together, laughing together, sometimes struggling together….. Thanks doesn't seem like enough, but it's what we've got. Heartfelt thanks, and admiration. Rest well.
Our local paper, Dayton Daily News, ran a very nice article on dad, his involvement with maple syrup, and as a founding member of Five Rivers Metroparks 2nd Street Market. The article is located here: https://www.daytondailynews.com/what-to-know/one-of-2nd-street-markets-founding-vendors-dies-at-89/QBTZD4GGB5FVXBTYCJ4BZED7XM/