Do you have any memories of watching maple sap dripping into buckets?  How about the wonderful smell of sap boiling and transforming into delicious maple syrup?  We do!
In 1983 our father, W. Dean Dohner, and his best friend, Marvin Swank, decided to try their hand at making maple syrup on one of Dad's farms in Miami County, Ohio. They started collecting sap by hand with 5-gallon buckets and soon realized it was a lot of work!  To speed the process and reduce hauling time, they decided to collect the sap using a tractor-mounted tank. The sap was boiled over a wood fire in a shed in the woods, often sleeping in the shed to keep the fire going all night.  They shared the sweet-tasting syrup they made with family and friends.  Dad and Marvin quickly realized pure maple syrup was something special!   
After speaking with other local producers and getting in touch with a maple syrup equipment dealer, Dad decided to expand the operation and began Dohner's Maple Camp.  Over time, the operation grew until he was tapping nearly 600 trees, having 750 taps.  In addition, a high-vacuum tubing system was installed.  Collected sap was pumped ¼ mile underground to holding tanks outside the barn.  It was then boiled in his 130-gallon propane-fired evaporator until it was transformed into maple syrup.
As production increased and more people wanted local maple syrup, Dad started selling his syrup at the 2nd Street Market in Dayton. He and our mother, Carol, became vendors at many local festivals, most for over 20 years.  As with all things, time marches on and change becomes necessary.  After over 35 years of producing maple syrup, Dad and Mom have retired.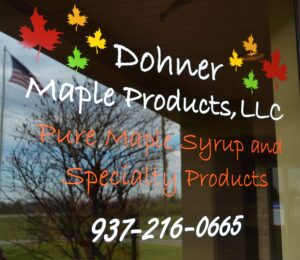 We, the second generation, now run the operation but in a different fashion.  We are Dohner Maple Products. We no longer produce maple syrup but are honored to bottle maple syrup from excellent Ohio maple producers.
We continue to provide pure Ohio maple syrup and other maple products to our customers at 2nd Street Market, various Ohio festivals and craft shows, and in our Maple Shop located in Vandalia, Ohio.
Sarah and Stan